Everton FC sponsor Stake.com under scrutiny
Investigations reveal suspicion that the sponsor of Everton may be enabling UK punters to illegally bet on their site.
Stake.com, is an Australia based crypto-gambling company which does not have license to operate betting in the United Kingdom. The company is one of the sponsors of Everton Football club with a reported £10 million a year deal. The logo Stake.com is emblazoned on the front shirt of the club. They are also one of the sponsors of Watford FC.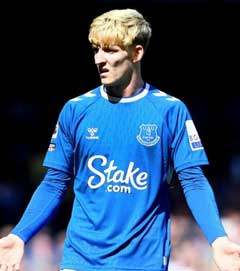 According to reports, an investigator has found that Stake.com is accessible from UK by using VPN. VPN services can route online connections through other servers located in other countries. These method can make a person's location appear to come from any country of one's choosing.  The suspicion is that many punters from UK may have been using this bypass method to bet at Stake.com, which is why the company is spending big money on advertising in UK football.
The sports betting website Stake.com though does not hold licences to operate in United Kingdom and does not purport to do so. When asked about the speculation, UK Gambling Commission had this to say, "If there is evidence that a gambling company that is not licensed by us is knowingly allowing British consumers to gamble then we would want that evidence provided to us so we can consider appropriate action."
This comes in the wake of the government's concerted effort to regulate online gambling in the country. UK Gambling Commission has in the recent past been doling out penalties for social responsibility and anti-money laundering failures on many online gaming entities:
Petfre (Gibraltar) Limited fined £2.87 million on 28 september.
NSUS Limited fined £672,000 on 12 October.
Betway fined £400K for marketing on Children's webpages on West Ham website on 21 September.
Spreadex Limited fined £1.36 million on 21st September.
Entain (owners of Coral & Ladbrokes) fined £17 million on 17th August.
On August 29th, The Guardian reported that Everton FC "told its sponsor Stake.com to stop using its imagery in an international promotion offering a $10 free bet to anyone who wagers $5,000 in the space of a week. Football fans and campaign groups had criticised the marketing scheme and questioned Everton's apparent involvement."
Stake.com of late has been spending enormous money on advertising around the world. They partner with the Canadian rapper Drake and live stream videos of him gambling to his fans. They also sponsor UFC and Formula One. They also partner with social media personalities/influencers on Twitch and other platforms.
---